I am delighted to join the holiday blog tour for Christmas from the Heart by Sheila Roberts today! My thanks to Harlequin Publishing for the invitation to join. I was gifted a copy of Christmas from the Heart to read in exchange for my honest review. 
Book Info and Rating
Paperback, 304 pages
Published September 24th 2019 by Mira Books
Book Summary
USA TODAY bestselling author Sheila Roberts takes readers to the charming, snowbound town of Pine River in this irresistible holiday romance.
Sometimes you need to look beyond the big picture to see what really matters
Olivia Berg's charity, Christmas from the Heart, has helped generations of families in need in Pine River, Washington, but this year might be the end of the road. Hightower Enterprises, one of their biggest donors since way back when Olivia's grandmother ran the charity, has been taken over by Ebenezer Scrooge the Second, aka CFO Guy Hightower, and he's declared there will be no more money coming to Christmas from the Heart.
Guy is simply being practical. Hightower Enterprises needs to tighten its belt, and when you don't have money to spare, you don't have money to share. You'd think even the pushy Olivia Berg could understand that.
With charitable donations dwindling, Olivia's Christmas budget depends on Hightower's contribution. She's focused her whole life on helping this small town, even putting her love life on hold to support her mission.
When Guy's Maserati breaks down at the edge of the Cascade foothills, he's relieved to be rescued by a pretty young woman who drives him to the nearby town of Pine River. Until he realizes his rescuer is none other than Olivia Berg. What's a Scrooge to do? Plug his nose and eat fruitcake and hope she doesn't learn his true identity before he can get out of town. What could go wrong?
I Thought…
Are you looking for a fantastic Christmas novel to read this festive season? Well, look no further because this is it! What a lovely and exciting book this was and a perfect and refreshing change from my usual, favourite genres. I love a fun and wonderful Yuletide story to put me in a festive mood, and Sheila Roberts' new book, 'Christmas from the Heart' does just that. 

Olivia (Livi) Berg is head of a not-for-profit organisation called Christmas from the Heart. She works all year with only a token salary, trying to raise money to make the holidays a little merrier for the community of Pine River that are in dire straits. Livi counts on the large corporate donations, and one of the more generous companies is Hightower Enterprises, but this year they have opted not offer a contribution to Livi, as they have already given to other charities and nonprofits. Furthermore, Guy Hightower, the new CFO of his family's business, has declared there will be no more money coming to Christmas from the Heart as Hightower Enterprises needs to tighten its belt. After all, Guy is simply being practical. But this creates limitations on what Livi is able do for those in need this year, so Guy becomes something of an enemy. 

When Guy finds himself stranded in Pine River after his flashy Maserati breaks down, a cute young woman stops to help him — Livi — not realising it is Guy. For his part, Guy gives her a false name — Joe Ford, so as to not get under her skin. And then the fun begins!

This was a well-paced and very touching romance that had me hooked, even before I had reached the second page. I adored Sheila Roberts' luscious blend of a small-town community - Pine River, a generous-hearted young woman, a Scrooge-like Corporate rich fella, and a besotted country lad. Brimming with romance, conflict, jealousy, and my favourite — humour, and set in a small town where everyone has their noses in each other's business, I couldn't fail to enjoy this book!

Another hit by author Sheila Roberts, I thoroughly enjoyed Christmas from the Heart, and I know you will too. I eagerly wait to see what Sheila Roberts is going to be releasing next. 

Thanks to NetGalley, Harlequin - MIRA and the author, Sheila Roberts for the complimentary copy. This is my honest and totally voluntary review.
Brianne's Book Reviews Rating | Five Stars
🖤 🖤 🖤 🖤 🖤
Meet the Author: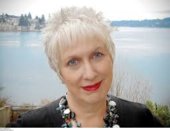 Sheila Roberts lives on a lake in the Pacific Northwest. Her novels have been published in several languages. Her book, Angel Lane, was an Amazon Top Ten Romance pick for 2009. Her holiday perennial, On Strike for Christmas, was made into a movie for the Lifetime Movie Network and her novel, The Nine Lives of Christmas, was made into a movie for Hallmark . You can visit Sheila on Twitter and Facebook or at her website (http://www.sheilasplace.com).
Website | Facebook | Twitter | GoodReads | Instagram
Buy Links : Amazon | B&N | iTunes | Kobo | Google 
Until Next Time,